Peover Positivity Principles
We are very proud that Peover Superior Primary are a SNAPP Happy trained school. SNAPP Happy is based on a Cognitive Behavioural Therapy approach that coaches children on strategies to encourage positive thinking and develop resilience.
By giving the children the vocabulary and safe space to be able to recognise and talk about their emotions, children at Peover are becoming increasingly emotionally intelligent. They can recognise how they and others are feeling and are developing a toolkit of 'self-help' strategies to regulate their thoughts and feelings. Children in KS2 are given a special SNAPP Happy band and the motto across school is as follows:
STOP – Become aware of negative thoughts and STOP them in their tracks.
SNAPP – Snap your band to change the thought pattern and break the habit.
SMILE – Replace the negative thought with a positive action, thought or image that makes you SMILE!
At Peover Superior Primary School we have adopted some positivity principles which run as a thread through our curriculum and whole school ethos. These positivity principles encourage children to apply a positive framework to all aspects of their home and school life. Our Peover Positivity Principles are as follows:
LOVE
LISTEN
LAUGH
LEARN
LIVE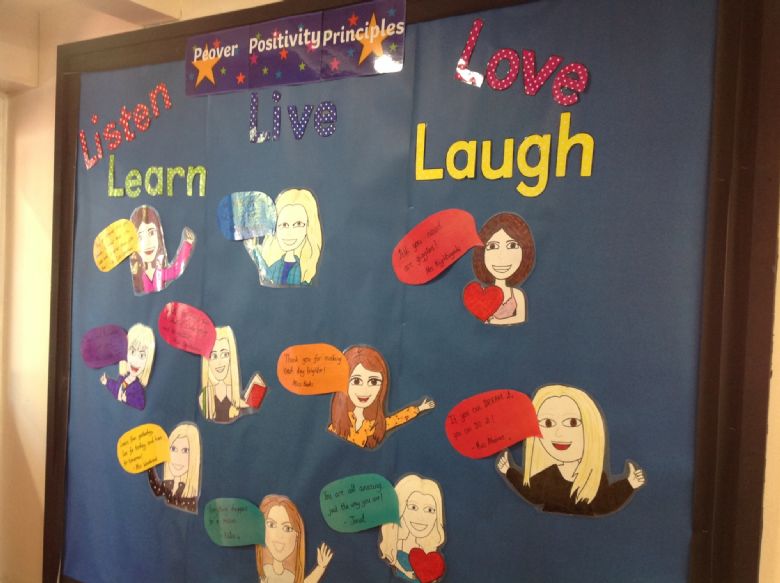 Throughout our school, a high priority is given to promoting children's positive mental health and giving them the skills and strategies to live healthy, safe, fulfilling and balanced lives.