Fixtures and Results
We participate in a variety of sporting competitions. These are mostly in the Holmes Chapel Cluster, however we also participate in the Small Schools' Cluster and we host the Small Schools' Cross Country each summer.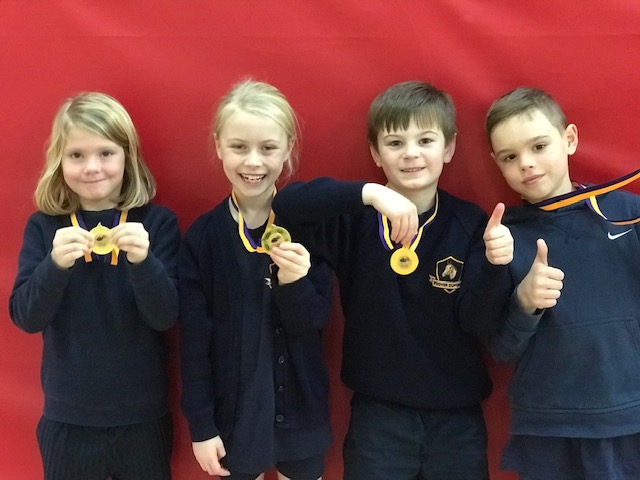 Please see below for details of our recent fixtures and results:
Year 5/6 7-a-side Football
On Wednesday 16th October, eight children from Years 5 and 6 participated in the Year 5 and 6 Football Tournament at Holmes Chapel Primary School. The team played three matches in the group stage with the following results:
Hermitage 0 – 0 Peover Superior – We dominated in this game and had many chances to score. Unfortunately, we didn't succeed but the team kept trying right until the end!
Brereton 0 – 2 Peover Superior – The team played superbly in this match with Milo and Sam H securing a goal each for us.
Holmes Chapel B 0 – 0 Peover Superior – Our team played excellently again in this match, however we didn't manage to score. Sam H was sadly injured so he had to be substituted – he was soon back up again cheering for the team though!
Our brilliant team then got through to the final against Goostrey. It was close match with both sides having attempts on goal – our goalkeeper, Harvey, made some great saves and worked his socks off! Unfortunately, Goostrey were finally successful in scoring a goal and with only a couple of minutes left, Peover Superior didn't manage to equalise.
Milo, Harvey, Lucas, Elliott, Freya, Harry, Sam H and Sam R were awarded silver medals and Mr Capewell congratulated them for playing so brilliantly in the tournament. A huge WELL DONE to our team for their effort, determination, resilience and team spirit – you made everyone watching you so proud! Thank you to the parents and siblings who came along to support and coach us, as well as providing much-needed energy boosts!
Year 5/6 Tag Rugby
On Tuesday 22nd October, nine children from Years 5 and 6 attended the Tag Rugby Tournament at Holmes Chapel Comprehensive School. The team included: Elliott, Emily, Jessica, Sam C, Beth, Freya, Harry, Sam H and Sam R.
Peover Superior was in the 'B' side of the tournament with Holmes Chapel B, Chelford and Goostrey B. Our first game was against Goostrey B and was very close throughout the ten-minute match. Unfortunately, in the last minute Goostrey scored a final try which pulled them ahead to 7-6 and we didn't have the time to even up the score. In our next match, we played Holmes Chapel B and it was another match in which both teams were fairly even. Holmes Chapel B just pipped us to the post with 4 tries to 3. Finally, we played Chelford and in this game our team showed a great deal of confidence and energy. We scored 8 tries and dominated the match from the beginning.
Overall, we came third in our group with Goostrey B winning. Well done to our team and thank you to Mr Townsend for training them, as well as to their parents for transporting them to the competition and cheering them on throughout the evening.
Next up, we have the Year 3 and 4 Football Tournament.
See the documents below for upcoming competitions.