E Safety
Internet Safety Information for Parents:
The Internet changes each and everyday, consequently parents (and teachers) always need to be one step ahead so that they are well-informed about applications, websites, games and social media platforms. Please read the guides (in the Documents section below) for various games and social media platforms which are the most popular at the moment with children and young people.
Click on these links for further information:
https://nationalonlinesafety.com/resources/platform-guides/
https://parentzone.org.uk/advice/parent-guides
https://www.thinkuknow.co.uk/parents/articles/Parental-controls/
https://www.youtube.com/watch?v=d5kW4pI_VQw
https://www.commonsensemedia.org/videos/pause-and-think-online
Computer Game PEGI Ratings - https://pegi.info/page/what-do-labels-mean
Safer Internet Day 2019
This year's Safer Internet Day took place on Tuesday 5th February. Children from Reception to Year 6 attended an assembly to share this year's focus 'Together for a better Internet'. Our E-Safety Officers (Megan, Milo, Jess and Sam) introduced themselves to the rest of the school and shared some of their 'top tips' for being safe online. Miss Woodward also gave children advice on giving consent online and how they should always read terms and conditions carefully and inform their parents of anything they are doing online.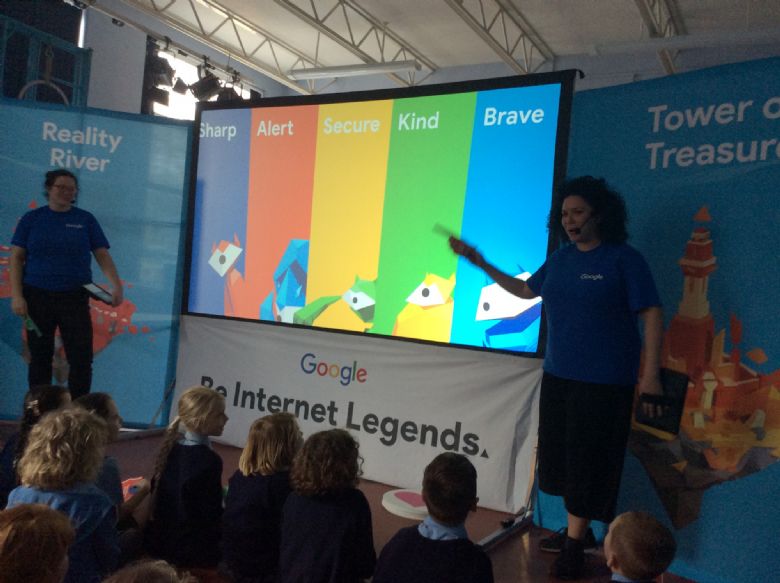 On Friday, Classes 2 and 3 enjoyed Google's Be Internet Legends assembly which reminded them of important rules for staying safe online. The children took the Legends' Pledge, considered what a safe password would look like and were even joined by our local MP, Esther McVey.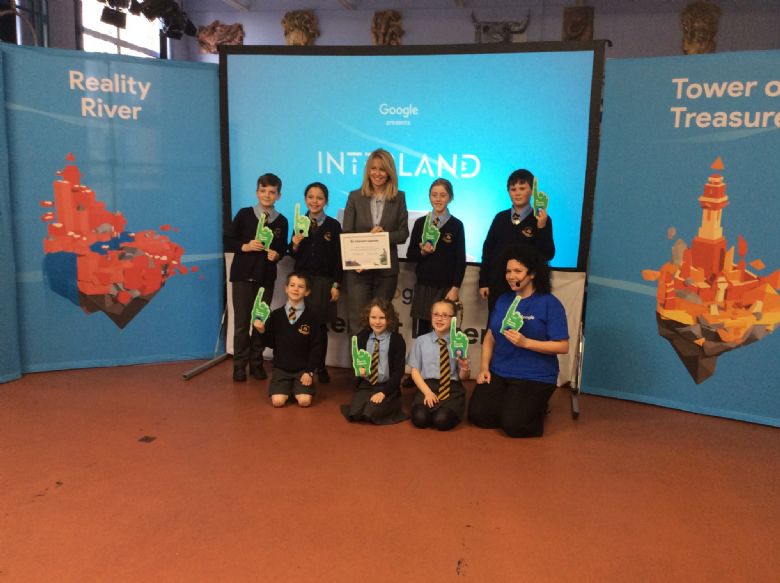 Internet Safety in the Curriculum
Children from Reception to Year 6 have lessons on the topic of E-Safety. In Spring 1, children in Classes 1, 2 and 3 had a six-week unit all about how to stay safe online and when using digital devices.
Class 1 children learnt about keeping personal information (names, addresses and school names) private, being kind to people online as well as in the real world, telling an adult if something or someone upsets them or makes them feel uncomfortable and asking permission before going on devices. They even learnt a song to help them remember the rules!
Class 2 children created PowerPoint presentations to inform others how to have fun, be careful and know who to talk to online. We talked about not sharing our personal information, keeping our passwords private, telling a trusted adult if we feel uncomfortable by something someone has said or if a website contains something that worries us, only talking to people online who we know in real life and how to report or block someone online.
Class 3 children used Purple Mash's 2Email to learn about phishing, spam, malware and giving their consent to share their details. Children took part in simulations where they were emailed by people they didn't know and had to decide what to do. They really impressed Miss Woodward and Mrs Sant with their knowledge - many children 'reported' emails that looked too good to be true or were sent by people that they didn't know.
The principles of keeping safe online will be revised throughout the year in Computing and PSHE lessons so that children's knowledge remains at a good level.
Here are a few resources which we use in class when teaching E-Safety: