Miss Crumbleholme wins national Reading for Pleasure Award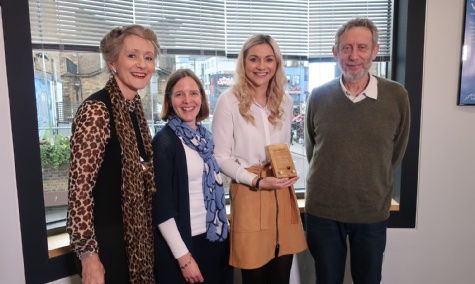 Reading For Pleasure Teacher of the Year
Miss Crumbleholme, a much-loved teacher at Peover Superior Endowed Primary School, has won the inaugural Egmont Reading for Pleasure Teacher Award at the UK Literacy Association & Open University's Research Symposium in London.
The aim of the Egmont Reading for Pleasure Teacher Awards is to demonstrate the positive impact that reading for pleasure can have on all aspects of a child's life. By recognising and celebrating teachers who are currently putting reading for pleasure at the heart of their classrooms, it is hoped the award will serve to inspire others to use similar practices in the future.
Emily Crumbleholme won the Early Career Teacher category, which recognises the work of teachers who are still in the early stages of their career. By creating a relaxed environment within the classroom and ensuring dedicated reading time, Emily encourages her pupils to discuss books, and focus on their current interests as well as reaching out to engage parents. Miss Crumbleholme received an individual award presented by the talented writer and broadcaster, Michael Rosen, Egmont books to the value of £250 for school and 20 copies of Help Your Child Love Reading by Alison David.
On receiving this fantastic award, Miss Crumbleholme says,' Reading is such a crucial part of the children's learning development not only academically but also socially and I am thrilled its importance is being recognised. Reading for pleasure is enjoyed by everyone in Class 2 (including the teachers!) and the buzz in the classroom when discussing the books is contagious. I can't wait to continue the journey and see where it will take us!'
As well as being an exceptional personal achievement for Miss Crumbleholme, it is also a wonderful reflection of Peover Superior Primary School, who continue to go from strength to strength after their recent OFSTED report in which they were rated 'Outstanding in all Areas'. This little village school have once again showed themselves to be 'Small but Mighty,' which has long been the unofficial motto of both the staff, the pupils and their families!