Years 5 and 6 Cross-Country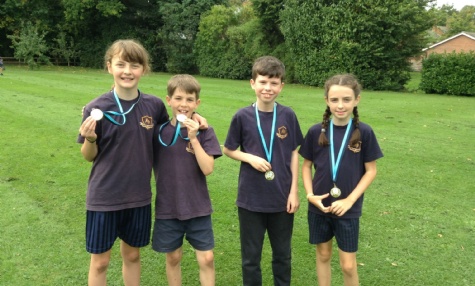 On Wednesday 16th September, Years 5 and 6 competed in a Cross-Country event right here at Peover Superior! Due to current circumstances, our usual September Cross-Country meetings at Holmes Chapel Comprehensive School could not take place, however Mr Capewell kindly organised to visit each of the schools in the cluster and lead an intra-school Cross-Country event instead.
There were four events during the afternoon in which the children competed against the other boys or girls in their year group in running four laps of the field. The children really made Miss Woodward proud with their willingness to compete, determination and incredible team work. Mr Capewell even commented on how supportive the children were of their peers! The runners had some extra special (and noisy!) supporters as Reception and Class 1 cheered them on from the trim-trail!
Our winners were:
Year 5 Boys – Harry Wadsworth
Year 5 Girls – Ava Hughes-Cubbins
Year 6 Boys – Stanley Whitmore
Year 6 Girls – Freya Wadsworth
Congratulations to our winners and a huge well done to all of our competitors in Class 3 who gave the event their absolute all!
Next up we have our Years 3 and 4 Cross Country competition on Wednesday 7th October. I hope you're all in training, Class 2!